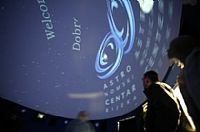 Astronomical Centre Rijeka
Astronomical Centre Rijeka comprises 545 m2 of closed space and 325 m2 of open space. It includes a planetarium, an observatory, a conference room, a meeting room, multimedia workshop, ticket office, a café, and a panoramic terrace at the roof of the building. The facilities are entirely adapted to the needs of the users with limited mobility.
The centre is worth the visit because it is
- the first astronomical centre in Croatia in which both an observatory and a planetarium are located
- the only astronomy centre in region with the state-of-the-art digital planetarium
- one of the few centres within the city bus route
- the largest investment in technological culture in Croatia
and also because
- two variable stars have been discovered from its observatory
- the planetarium is a member of the International Planetarium Society
Location: Sveti Križ Hill (45° 19' 29'' latitude N and 14° 28' 59'' longitude E), 3 km from the city centre
ADMISSION TO THE PLANETARIUM:
- Adult – 20kn
- Child (ages 6+)/Student/Senior – 10kn
ADMISSION TO THE OBSERVATORY: 10kn
HOURS: Tuesday – Saturday: 8 a.m. – 10 p.m.
An unique attraction for foreign tourists: The Summer Program, every Wednesday at 22:00, which consists of showing the films in the planetarium in foreign languages (English, Italian, French - on request).
More sights: