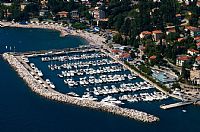 Icici beach
The Icici beach is an urban beach located in the center of Icici, which is one of three parts of the Town of Opatija. The beach is situated between the little old port and the ACI marina and it is 441 m long. For cleanliness of sea and its eco standards has the Blue flag.
It consists of a fence along the pavement on the street and a wall and a protective net along the streets that lead to the marina and the old harbour. The land part of the beach consists of concrete areas for sun bathing at the southern and central parts of the beach, a small part with sand, a small green oasis in the central part and a pebble beach at the eastern end.
The whole lenght of the beach opens towards the Kvarner bay, facing the islands of Krk and Cres and is exposed to various winds. Visitors can access the beach through 5 entrances. All access points are paved with asphalt or concrete.
There is an entrance with a ramp for th e disabled. Life-guards are present on the beach from 10 to 18 every day. First aid and life-saving equipment are also available.
Catering facilities, sanitary facilities, playgrounds and sport facilities are also located on the beach

More sights: