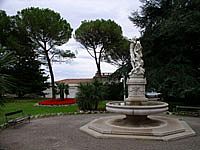 The Fountain - Helios and Selena
The fountain Helios and Selena is located in beautiful park opposite the Imperial hotel near the church of St Jacob.
It's the work of the sculptor Hans Rathautskog from Graz, by Madonna, and to Theodor Billroth. The fountain represents the Sun and the Moon, the personification of the mythological characters brother and sister.
Selena (Greek Selene) is a goddess and personification of the Moon. Helios is Selena's brother. After he finishes his journey across the heavens, Selena takes his place. Both are personifications, Helios the Sun and Selena the Moon.
The origin of the word "Selena" was not clearly established,original word is Greek, and is probably associated with the word "selas" which means "light.".
More sights: