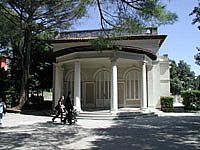 Art pavilion "Juraj Matija Sporer"
At the time of the Austro-Hungarian monarchy it was built in the most beautiful part of Opatija in 1899. as the "Pavillon für eine Conditorei".
The project was made by Architectural Engineering Department BAUQUÉ & PIO from Vienna – by architects Alberta Piu from Vienna (born in 1847, Mailand), and Armando Bauquéu from Paris (born in 1851. in Paris). Bauqué & Pio signed, among other things, villa in Vienna and castles in Reichenau-Hinterleitenu for Viennese bankers Nathanael Baron Rothschild.

Architect Sandor Neuhausler in 1908 and Richard Tomasic in 1925 built on
Pavilion at today's size. In design and spaciousness the spirit of Belle Epoque is strongly present. Large rectangular doors are fully glazed.
Pavilion "Juraj Šporer" was named after Croatian doctor and
writer who strived before Austrians that Opatija become climate
spa - Juraj Matija Šporer.
More sights: