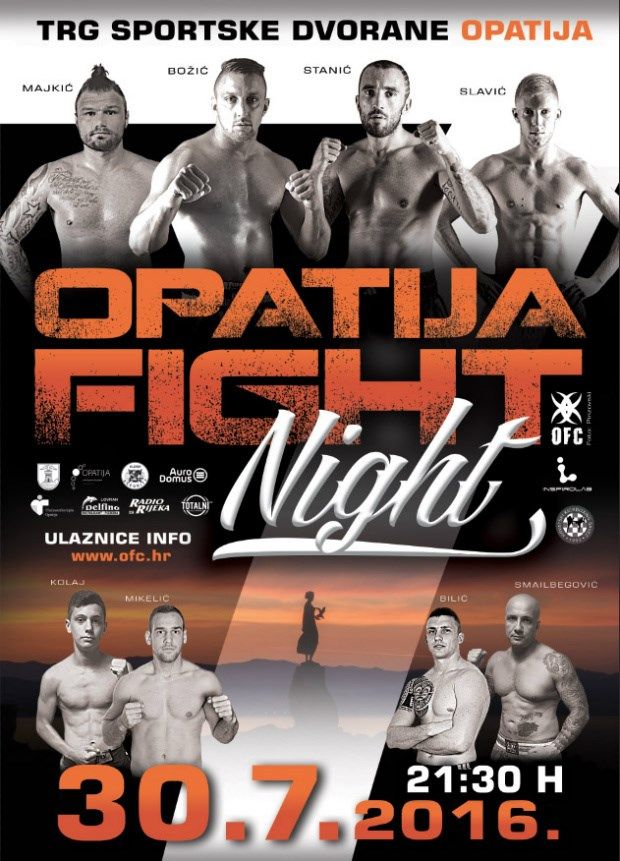 Opatija Fight Night
Saturday, 30.7.2016.
Sports hall Marino Cvetkovic, Opatija
This past fall, full gym, "Marino Cvetkovic" in Opatija enjoyed in Opatija Fight Night, and this year is scheduled for a summer event that will take place on 30.07.on the square in front of the sports hall, for which there is no doubt it will also be filled to capacity.
Seventh Opatija Fight Night brings nine great matches, all of them by K1 rules, and fighters who were on the list matches guarantee that this will be a really great night of action and superior adrenaline and indispensable professional production at a high level.
TICKETS
All prices and points of sale of tickets
You can see here.
In the main fight night former WBC Muay Thai world champion, Ivan Stanic, will meet with his Italian rival Michele Mastromatteo, who is also in his career did the greater number of fights by the rules Muay Thaiji, discipline that is reputed to be the most brutal in the world of martial arts .The fact that it will be in the ring to find two real Muay Thai fighter guarantor is very attractive fight, and mention how Mastromatteo this year won the European Muay Thai champion.In his career play was 29 wins and six defeats.
Before them in the ring will always find attractive Nikola Bozic, a former multiple Croatian champion and member of the Croatian national team for the opponents will have dangerous Italians Domenico Fontanellija, who as a member Mastromatteo Top Kombat from Turin.Fontanelli has so far achieved 18 wins and four defeats and two matches ended in a draw him.
The sword that will surely attract a lot of interest in regional public brings skirmish Pula and Novi Sad.Got famous zelg galešić to Opatija coming Toni Mikelić who recently play some very valuable victory, and now will try to further improve the score in their match against a very solid Luka Petrovic from Ronin GYMA.Petrovic has already repeatedly demonstrated exceptional quality and strength to be able to cope with the physical stronger fighters than themselves, but many expect that this could be perhaps technically the most attractive match of the evening.
In the introduction, the main part of the ring after a long break again find popular from Rijeka Zoran Majkić, who has had a very rich amateur career, not many who can boast fighter in Croatia.Majkić is back fighting after nearly a three-year break caused by the heavy defeat in Zadar to fight Jason Wilnis, today one of the best fighters in his category in the world.It can be said that this will be a kind of control details Majkića before some recent serious challenges.His opponent will be Danilo Stosic from Banja Luka club once one of the best fighters in the region, Draženka Ninića.
Very interesting match will be a clash Ivana Bilic from Pula Trojan GYMA and Nikola Todorovic, who in Opatija comes from Novi Sad Warriors GYMA.Bilic is thanks to performances at the FCC and other prominent events in this part of Europe is already quite well-known name combat sports fans, while Todorovic many proclaimed the most promising kickboxers in Serbia.It is the only 18-year-old fighter, who last year became the junior European champion in Spain, but so far has already achieved more than 40 victories in her amateur career.
Marin Slavić the past Opatija Fight Night many were pleasantly surprised by the victory by technical knockout, and given a specific score crisis this year, will try to get back on the winning track again just before his audience.He will be on the other side of the ring to stand out more experienced Slovenian Gregor Kek.
Let us mention that viewers in Opatija, in addition to the previously mentioned six fights, have the opportunity to see three very interesting clash.Amer Smailbegović will play against Nina Tolic from Zagreb, while the junior European champion Marko Doric continue to build his professional career fighting talented Clement Pekolj from Slovenia.The honor of opening Opatija Fight Night 7 was given to two young fighters, who will only do battle under amateur rules.
Presale tickets for Opatija Fight Night 7 begins 13.07.the more points of sale in the wider area of Rijeka and Opatija, and the ticket price to 25.07.is 65 kuna, while after that date will be able to buy at a price of 80 kuna.The sale will also include Golden Circle tickets at a price of 120 kuna.Outlets and detailed information can be found on the website of Opatija Fight Club
Read MoreAdded: 19.07.2016 16:16
Last Modified: 19.07.2016 18:18