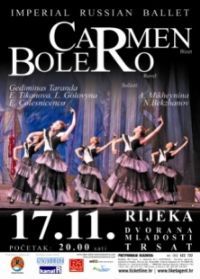 Imperial Russian Ballet: Carmen & Bolero Dvorana Mladosti, Rijeka ,20:00 h
Saturday, 17.11.2007.

This year Rijeka will have the honor to accommodate the biggest stars of world ballet-Bolshoia. In ensemble of Russian Ballet, stars of Bolshoia will introduce them self's to Rijeka audience on 17th of November in 20:00 hours in Rijeka's big hall "Mladosti" with ballet shows: M.Ravel-Bolero, and Schedrin-Carmen.
Emperor Russian ballet is consists of 45 artists and among them there are and those on the list of accomplished national artists of Russia.
Long list of world known artists cooperate with Ensemble. Among them are big stars like Bolshoia - Liudmila Semeniaka, E.Andriyenko, N.Pavlova, Yuri Posokhov (San Fransisco Ballet), T.Chernobrovkina i D. Zababurin (Stanislavsky Theatre Ballet), Patric Dupont (Grand Opera), Kumakawa (Covent Garden), M.Kulik, F.Ruzhimatov, L.Kunakova, V. Samodurov (Maryinsky Theatre), A.Ratmansky, J.Aiupova...
Price for tickets in 270,200 and 140 kn, and you can buy them on city ticketmachine in Rijeka or on line on www.kulturaplus.com.
Read MoreAdded: 17.11.2007 00:00