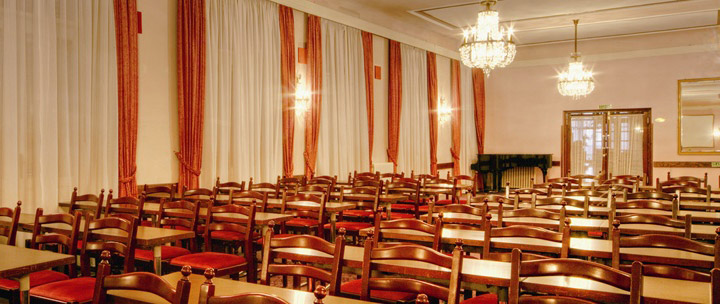 Hotel Pallace-Bellevue
Located in the center of Opatija, along the central Opatija beach. One of the oldest and most beautiful hotels of the Opatija Riviera.
The view of the Palace - Bellevue hotels evokes in the best possible way the miraculous interwining of the past and present. The monumental, imperial architecture blended into the fast and rich life of the Opatija's center offers ideal combination of the old and new for an ideal and genuine relaxation.
Rooms: 205 rooms and 4 suits with phone and TV-set.
Amenities: indoor swimming pool with heated sea water, sauna, aperitif bars, TV-lounges, air-conditioned restaurant, café with a terrace, summer dancing terrace, boutiques. A close proximity of tennis courts and a wellness center.
Located right in the center , this is the perfect venue for business meetings in conference room with 50-100 places, 2 meeting rooms with 10-25 places, exhibition area and in halls and terraces for reception and cocktails.
The Hotel Palace-Bellevue's convention facilities include a larger congress hall with natural light for 50-100 delegates, and two smaller halls for 10-25 people, which are suitable for small-sized meetings or seminars.
The hotel's terrace and the halls can be used as exhibition areas or for hosting cocktail parties or receptions during congresses.