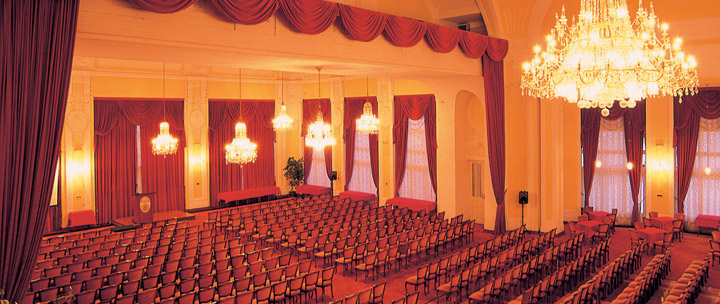 Hotel Kvarner
The oldest Croatian hotel on the Adriatic. Former destination of the Austro-Hungarian monarchy emperors. Right by the sea. Surrounded by a huge park in the vicinity of a botanical garden with lush and interesting vegetation. Extremely attractive for event promoters and guests who take pleasure in a combination of glorious past and modern happening trends.
Rooms: 83 rooms and suites, each with a phone, Tv-set and mini bar; 30 of the rooms are in the Villa Amalia.
Amenities: outdoor swimming pool with sea water, hotel beach, aperitif bar, conference and event saloons. Air-conditioned Crystal Hall (700 seats), suitable for conventions, banquets, balls and festivals. Dancing on the attractive Kvarner Terrace above the sea. Parking lot. Close proximity of casino, tennis courts, gym, wellnes center and open-air theatre.
News:
the new façade has restored the original magnificent appearance of this fin-de-siecle masterpiece
the renovated terrace is ready to become the centre of events on the famous Lungomare coastal promenade
enjoy the a-la-carte restaurant or the specially designed lounge baru on the terrace
major changes have taken place in the Crystal Ballroom equipped in order to be able to host large shows, congresses, weddings and other events using modern audio-visual equipment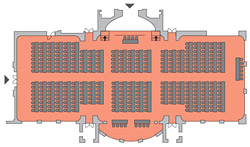 The Kvarner's convention facilities include the splendid Crystal Ballroom, covering an area of 655 m2 with a capacity for 250 to 900 people, the Red Salon, and the Meeting Salon, which can accommodate 25 to 100 people.
The large outdoor terrace of 400 m2 is directly connected to the Crystal Ballroom and offers the perfect setting for conference opening ceremonies, receptions, cocktail parties, and similar events. If needed, marquees can be set up on the terrace, and the hall can be divided into two smaller conference rooms.
The Crystal Ballroom has its own entrance with lobby that can be used as a convention reception area with cloakroom, or as exhibition space.