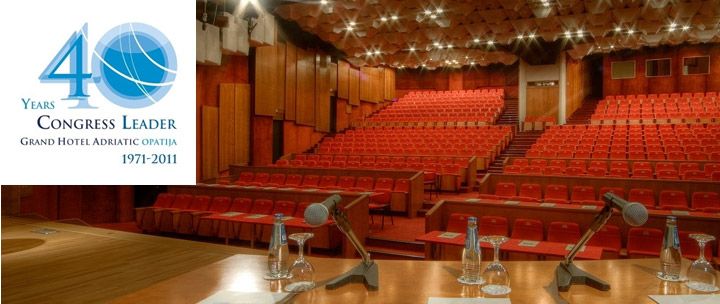 Grand Hotel Adriatic
The Grand Hotel Adriatic in Opatija is located very close to the town centre, above the famous coastal walking path, the Lungomare, and from it extends a beautiful view over the Kvarner Bay. Under one roof excellent accommodation can be found in superior (4*) and standard (3*) rooms, relaxation and entertainment at the attractive health and beauty centre or in the Casino, there is also an excellent gastronomic offer as well as a very successful history of organising demanding congresses and meetings. During the summer months, guests have the hotel's stoney beach with a rich offer of food and drinks in the "Beach Garden" restaurant.
The Spa centre, one of the most beautiful in Opatija, is located on the 8th floor of the hotel. What makes it special is the beautiful view over the Kvarner Bay and its islands. Enjoying the pool with its hot sea water, Turkish bath, Finnish sauna, whirlpools…the sunset becomes priceless! On the hotel's ground floor, the recently furnished Wellness & Beauty Centre offers treatments such as massages and anti-age treatments with collagen and hyaluronic acid.
The Casino "Adriatic" offers traditional games and entertainment as well as slot machines. Generations of players can enjoy playing American Roulette, Black Jack, Caribbean Stud Poker, Punto Banco and, of course, the current, most famous game, Texas Hold'em Poker. Playing on one of the 90 slot machines and electronic roulette produced by respectable manufacturers, offers players the possibility of winning a number of jackpots. Check out why are we the leading casino in the region!
The Grand Hotel Adriatic is the hotel with the longest tradition in congress tourism on the Croatian coast of the Adriatic. The congress centre disposes of a total of 8 halls (from 15 to 500 places). As well as this, there is the big congress hall for holding concerts and business reunions and it is also suitable for music performances and theatre shows too.
The Café & Restaurant "Nimfa" offers international gastronomic specialties as well as specialties of coastal and other regional Croatian cuisines. It also offers vegetarian cuisine and dietetic menus and can adjust to your special wishes and needs at all times. There are other rooms within the hotel for the organisation of weddings which can host up to 500 guests.
ACCOMMODATION:
Adriatic I **** - SUPERIOR rooms offering all top-quality conveniences (air-condition, shower/toilet or a bathtub/toilet, cabel TV, mini-bar, safe, hairdryer, direct telephone line and Internet connection)
Adriatic II *** - STANDARD rooms (air-condition, shower/toilet or a bathtub/toilet, Cable TV, mini-bar, safe, hairdryer, direct telephone line)
HOTEL FACILITIES:
• Adriatic I **** - 171 rooms (suites included)
• Adriatic II *** - 136 rooms
• Restaurant "Adriatic" (buffet meals). Themed evenings in the period from 01st April 2011 to 30th October 2011
• Cafe & Restaurant "Nimfa" (a la carte)
• Casino "Adriatic" (American Roulette, Caribbean Stud Poker, Black-Jack, Texas Hold'em Poker, Punto Banco, slot machines)
• hotel's natural stony beach with a restaurant offering national and international cuisine (specialties during the summer season)
• Tantra Spa & Beauty centre:
- Tantra Spa (area of 550 m2) on the top 8.floor of Adriatic I ****: swimming-pool with heated sea water, whirlpools, Finnish sauna, Turkish bath, Kneipp, aromatized cooling showers (cold steam mist with blue chromo light, tropical rain with orange chromo light and mango aroma), relaxation zone, suntanning deck.
- Tantra Beauty (area of 600 m2) on the ground - floor of the hotel, covering an area of 600 m2 with 10 units for massage and 5 spas
• news - stand and souvenir shop
• public parking
• Internet corner
• wireless - Congress Centre in Adriatic II ***, reception and Cafe & Restaurant "Nimfa"
• 2 tennis courts
• Congress Centre with air-conditioned halls for capacities of 10 to 550 participants
• State-of-the-art audio - visual equipment and technical support in all Convention Centre facilities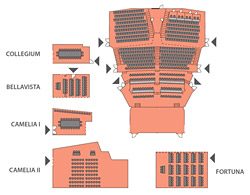 A distinctive feature of the Grand Hotel Adriatic is its convention centre featuring a large amphitheatre-shaped congress hall with 550 seats and a large lobby that can be used as exhibition space.
In addition to the large congress hall, the hotel offers seven further conference rooms that can accommodate between 14 and 150 delegates.
The Camellia I hall has a capacity of 35 delegates, while the Camellia II and Fortuna halls can hold up to 120.
The hotel's convention centre is equipped with the latest audio-visual equipment and can provide professional technical support.
Guests of the Grand Hotel Adriatic can make use of the hotel's van transfer service.